I wrote this short analysis for ENGL 111.03 class homework. I will upload more film reviews soon.
Original title: Diarios de motocicleta (Spanish with English subtitles)
Year: 2004
Director: Walter Salles
IMDB Link: https://www.imdb.com/title/tt0318462/ (7.8/10)
Cast: Gael Garcia Bernal (Ernesto Che Guevara) and Rodrigo De la Sarna (Alberto)
Motorcycle Diaries' goal is to reveal how Ernesto Guevara shifted from an adventurous person to a revolutionary guerrilla even though the film does not give importance to politics. The film itself depends on Che Guevara's own diaries that he wrote in his long trip and its filming was completed in different South America countries in 2004. As for its plot, it is mainly about one of the earlier journeys of Che Guevara with his friend Alberto Granado that altered Guevara's standpoint of life completely.
Ernesto Guevara, who is about to complete his university life as a medical student in Argentina in 1952, decided to make a trip with his friend Alberto Granado. Their objective is merely having fun in their planned journey that is from Argentina to Venezuela. However, this objective begins to change with witnessing upsetting events in that travel. Initially, Ernesto's girlfriend terminates their relationship and this occupies his mind. Then, Alberto and Ernesto see poor peasants who are in tough works and face ill people who are excluded from society in Peru. Along with those events, Ernesto becomes sensitive towards people's conditions and assists them. At last, the journey ends when two friends leave at the airport where Ernesto returns his home in Buenos Aires.
Like all historical films, "Motorcycle Diaries" has a central historical message which is to exhibit Ernesto Che Guevara as a humanized individual at his adolescence age. In order to transmit this message to its viewers, Walter Salles used three fundamental points that are forming constant life-styles in two friends, showing Guevara's weak aspects, and revealing needy people of South America.
I-Establishing Constant Life-Styles In Two Maın Characters
This point has absolutely contributed to support his central historical message. Alberto Granado is quite different than Ernesto Guevara in terms of many issues that make him Ernesto's opposite. To exemplify, their political views are opposite each other at the beginning of the film. In the scene in which Ernesto leaves his family when Alberto and an older man speaks regarding when a revolution takes place in Argentina and taking the USSR's success as an instance, Ernesto does not care about this problem in speaking to his mother about his own health, not the other people.
Furthermore, the fifteen dollars Chichina, Ernesto's girlfriend, gives Ernesto causes a quarrel between them. Alberto insists on spending money in telling that
"give me Chichina's fifteen dollars and let us go to a hospital like the people"
However, Ernesto refused his offers many times with threatening him with throwing the money away till the Chichina's letter that points out the finishing of their relationship. In this respect, Ernesto is like children to preserve the money while Alberto spends it to meet their needs right away like a grown. Despite the fact that their age differences are only six years, Walter Salles exaggerates this difference in showing two characters like an old and a child to convince people.
In a different scene, a German old man shows his neck to two people in order to understand whether he has a disease. After examination, both of them express his illness although they do not compromise what its name is. In this regard, Alberto offers treatment in exchange for staying a place and giving food. However, Ernesto advocates that the old man should go to Buenos Aires to deal with that problem in remarking
"I can recommend you a specialist".
That is to say, on the one side, Ernesto considers people's health in the first place as a medical "student", on the other side, Alberto's priority is to reach his wants and needs like competitive adults. Constructing opposite characters indicate that the director's target is to create a change in Che Guevara's single and hero figures. Thus, Ernesto Che Guevara becomes more humanized not a legendary hero.
II-Ernesto as a Weak and Unhealthy Boy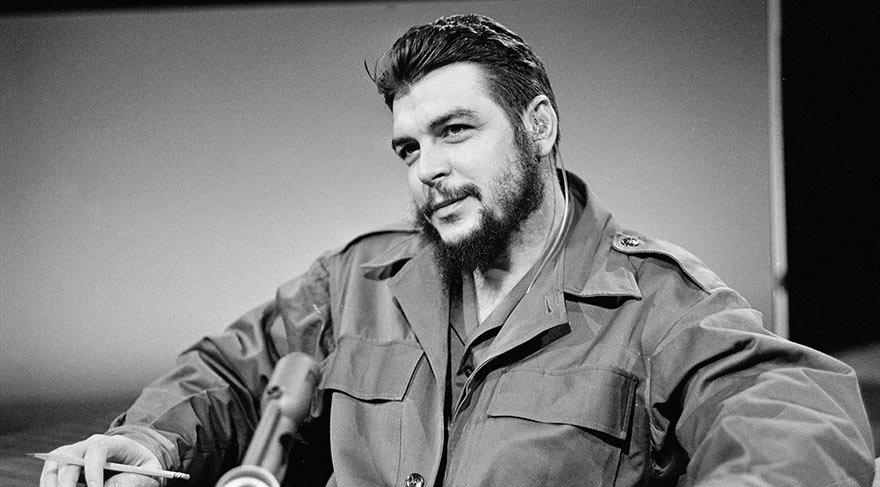 Ernesto Che Guevara seems a resistant leader from the Communist Bloc. Hence, many socialists have considered him as a super-hero. However, the film's Ernesto is just like other people in South America.
Building Ernesto Che Guevara as a protagonist that has much weakness in the film has become remarkable support to Walter Salles's central historical message. Fernanda Bueno, who is from Univesity of Texas, contends that Ernesto Che Guevara's
"personality in the film is built upon his weakness."
He has asthma that is a chronic illness devastates his health many times throughout the film. Scenes asthma rises again, Ernesto cannot do anything to halt that. Rather, other people assist him to cease his illness. For example, Alberto has to intervene Ernesto's disease in vaccinating him in their ship journey. In this scene, the room Ernesto rests in is quite dark and then the sun sets outside the ship with the rise of darkness. Thus, visuals are used as an instrument to contribute to the film's main message. Likewise, in another scene which happens at night, after crossing the river where patients stay Ernesto's chronic illness begins again; however, he saves his health with patient people's aid.
Not only his natural problems but also events that Ernesto faces, show his weakness in different scenes of the film. To give an instance, when Chichina's letter in which she informs him to leave forever arrives Ernesto at an elevator, he cannot cope with this problem. In this chapter, the scene becomes to get darker through their arriving on the beach with annoying sounds. That is darkness's domination in scenes that show Ernesto's weakness is a successful example of using visuals in the film. As for Ernesto's weakness, this factor destroys the image of extremely powerful and quite resistant Che by bringing a new humanized image of Ernesto Che Guevara.
III-Demonstrating Needy People of South America
As for the last point of Walter Salles to persuade people his message, the film demonstrates poor and sick people who live and work in different areas of South America with horrible conditions because of deep influences on Ernesto's mind. In one scene, a poor man who works at the Atacama Desert with his wife for a landlord complains their life to Ernesto and Alberto in telling that
"we didn't have much, just a dry and difficult land. … It was ours, until a landlord arrived and kicked us out. …We had to leave our son with our family and hit the road, looking for work, trying to escape from the police who want to throw us in jail."
Ernesto sees these sort of needy people again at the peak of the Andes and in the rivers of Chile. In this case, Ernesto becomes upset and started to consider other people's living conditions and to help them. For instance, patient people who live on an island in San Pablo affect Ernesto profoundly. Due to their illness, any doctor does not want to touch them; however, Ernesto does this to assist ill people. They are so excluded from the society that those are forced to stay different places than healthy people. To handle this issue, Ernesto communicates almost every patient there and plays many activities with them such as football. At the same time, those scenes demonstrate the effectiveness of multimodal elements in terms of every aspect. For example, both poor and ill people's images are seen with Che and Alberto's archival ones at the end of the film. Besides, Alberto Granado's original voice points out the effect of poor and ill people on them.
He remarks that he "has changed more than I thought". Along with this travel, he lasts that "at least I am not the same me I was." Thus, this journey concludes with the change of them thoroughly. While Alberto's believe in a revolution increases, Ernesto's emotions toward people prepare the ground to be a revolutionary. In this respect, Walter Salles accomplishes his goal since instead of the image of hard and durable Che, Ernesto Che Guevara becomes a humanized person with his sensitivity towards sick and poor people.
Conclusion
As noted above, Walter Salles applies three major points to persuade the viewers of "Motorcycle Diaries". In this documentary, different types of primary sources are used from pieces of newspaper to the main character's real voice record. At the same time, those sources like "Motorcycle Diaries" construct a narrative of a historical figure or event. Establishing a separated narrative becomes a piece of history since history as science not only analyses historical events with their reasons or results, but also examine the late products that are written after these events. That is to say, just as Guevara's diaries, "Motorcycle Diaries" gains a right to be a part of history.